How to prepare and run the first 10K
The basic principles of preparation and training plan for runners who are already able to run 5 km freely and want to try their hand at the "top ten"
Ten kilometers is one of the most popular race distances. This is a good opportunity for beginner runners to reach the next level.

In this article, we will tell you what to look for in preparation, as well as offer a training plan for those who want to run their first 10 km.
Bacis principles
So, you are already running 5K and may have competed. Or maybe even cover this distance in less than 30 minutes (that's not bad at all!). The next step is preparation for 10 km.

In fact, preparing for the first ten in your life means accustoming yourself to constant running without switching to a step for an hour. The main rule of preparation: run relaxed, take your time and do not pay attention to speed, focus on a pace at which you can talk calmly.

Save your strength, finish your workout with the feeling that you could run a little more and faster - this will help you stay motivated and go out with pleasure for every run.
Always start your workout with a warm-up, which includes 10 minutes of easy running and joint exercises. After a workout, you need to do a hitch - the same 10 minutes of slow running to help the cardiovascular system smoothly switch to a calm mode of operation.

Start preparing by choosing sneakers and clothes. Get checked out by a cardiologist and an orthopedist. You may need custom shoe insoles to help prevent knee, foot, or back pain.

Take care of recovery: first of all, it is sufficient sleep and rest. Regular massage and sauna will additionally protect against injuries.

The easiest way to prepare for a race is to come to a running club where coaches and teammates will help (you will immediately find those who run at your pace). Training is fun, the load is almost invisible.

And for those who are preparing on their own, we offer an approximate training plan.
10K preparation plan
For training, we choose four days a week, we do it every other day. For example, Tuesday, Thursday, Saturday, and on Sunday, plan a relatively long run.

The rest of the days are either rest or recovery loads (swimming, yoga, Pilates). Be sure to leave at least one day for complete rest and wallowing on the couch: progress in training comes during the rest period (the main thing is not to get too carried away by doing nothing).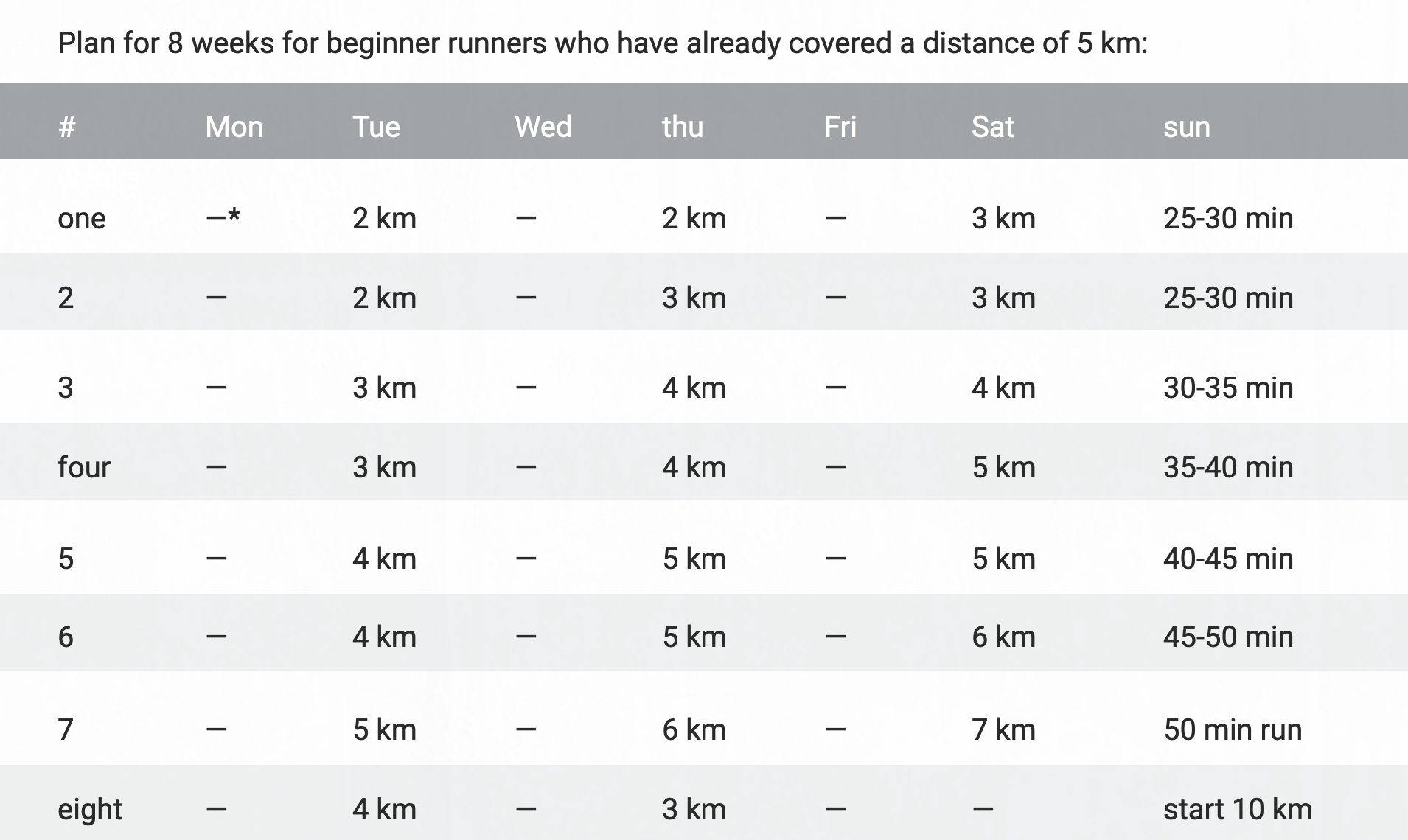 If running 2 km is too short for you, and you run, for example, 5-6 km, then you can speed up the preparation by switching to the part of the plan in which such distances are regular.
Run day action plan
For those who are already confident and ready to run for a certain time, and not just to finish, we will give some tips.

- First, you need to imagine your capabilities (for example, run a control 5 km for a while) and adequately calculate the approximate final result.

- Before starting, study the route, elevation changes, coverage, and location of kilometer marks so that there are no surprises in the form of slides, sand or sharp descents on the distance.

- The best tactic in a 10k run is to keep pace the entire distance. For example, the final result of 50 minutes is chosen, which means that each kilometer must be run in 5 minutes with an error of 5-7 seconds.

- It is advisable not to rush on the first kilometer. The traditional mistake is to accelerate under the general euphoria and adrenaline, not to calculate the strength, and then suffer in the second half of the distance. Keep your head cool. Start the first kilometer slower, run at a steady pace for the middle of the distance, and speed up for the last kilometer before the finish line.
- The day before the start, get a number in advance and prepare equipment: sneakers, shorts and a T-shirt. It is better to start in the same shoes that you trained in, do not buy shoes a week before the start - this is fraught with blisters. Dress for the weather so you don't overheat.

- Before the start, do not have a heavy breakfast (you can even refuse breakfast altogether if you feel good). Avoid heavy foods: meat, milk and fatty foods. The best breakfast to choose from is oatmeal, banana, cracker and tea.

- Arrive at the start in advance - at least an hour in advance. Take care of storage space. Change your clothes and start warming up half an hour before the start of the competition. Don't forget to go to the toilet.

- Give up the idea of ​​starting with the pros, don't try to get ahead. You're not going to improve the world record, are you?

We wish you light legs at a distance. You will definitely succeed, believe in yourself!