The Sweet 16: Most Iconic Kicks of the 90's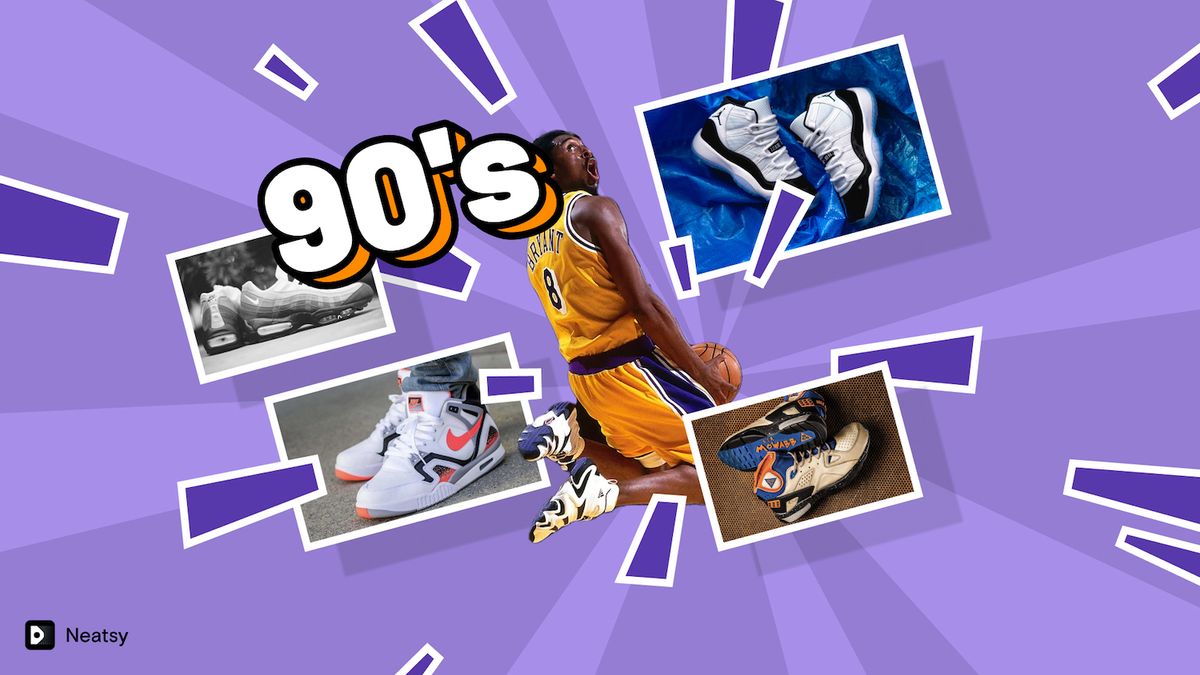 First off…I could have listed 100 pairs, literally. In fact, you could easily argue that the 90's influenced the kicks game more than any other decade since. Case in point:  the number of  "retro" models dropped in the last 20 years, that originated in the 90s?
Let's reminisce, shall we?
All of those kids (myself included) that didn't have the coin to pick up Reebok Answers, Jordan XI's or Reebok Pumps in the mid-90s… (yes, 1st world problems, I know), dreamed of a day when they could spend their own money to pick up the only thing they really wanted…fly sneakers.
Cut to the last 20 years, where those "90s kids" (now adults w/ cash) can't shell out $150+ fast enough, to get their hands on retro versions of previously illusive 90s nostalgia.
So, without further ado…
Most Iconic Kicks of the 90s (in no particular order):
1. Nike Air Max 95 (1995)
For the unparalleled Air Max 95, Nike tapped one of their ACG designers, Sergio Lozano to spearhead the project. As a trained industrial designer, with 4 years of experience designing tennis and training shoes, he would undoubtedly bring a fresh perspective to the Air Max family…and sure enough, he did. In Lozano's own words: "I was looking across the lake out into the trees and I began picturing the process of rain eroding the earth and thought it would be interesting if the perfect product was unearthed by erosion." Moreover, he took influences from human anatomy, working the idea of human muscles and vertebrae into the design. Sure enough, the final product had an upper with layered panels that resembled muscle fibers and flesh, Nylon eyelets that were fashioned after ribs, a midsole that took after the spine, and a gradient that resembled geographical striations of eroded rock walls.
2. Adidas EQT Running Support (1991)
The iconic Adidas EQT Running Support 91 shoe was actually designed by two former Nike employees, Mr Peter Moore, a sneaker designer who was responsible for the Air Jordan 1, and Mr Rob Strasser. Moreover, Moore enlisted the help of Mr Jacques Chassaing, designer of the Adidas ZX and Forum, who introduced Moore to three of Adidas's most advanced technologies (at the time) – Soft Cell, Riemen and Torsion – all of which were featured in the EQT sneaker designs. Adidas EQT has since become the subline that provides athletes, adventurers and the generally active with functional equipment that they can depend on.
3. Nike Air Trainer SC II "Bo Knows" (1991)
The Nike Air Trainer SC II was the follow-up to the Air Trainer SC, and was originally released in 1991 (though it has been retro'd quite a bit…but not enough for my liking;-). They were endorsed by arguably the greatest athlete of all time, Bo Jackson, and featured a midfoot strap and an inner bootie. They have been re-released in a multitude of colorways, but the OG's are still considered the gold standard.
4. Reebok "The Question" (1996)
By the time Iverson was picked #1 by Philly in the '96 NBA Draft, the battle for Iverson was already in full swing, between Nike and Reebok. Nike already had Jordan of course, and because of that Iverson knew he would always be #2 if he went to Nike…plus, the guaranteed $60M, 10-yr contract didn't hurt either. Legend has it that Reebok had already designed the Question shoe, prior to Iverson signing…and when he saw it, he knew that was the one. Safe to say that Iverson single-handedly etched Reebok's place in NBA and Sneakerhead history, with this shoe.
5. Nike Air Tech Challenge II (1990)
Considered by many as one of the best sneakers of all time the Air Tech Challenge II (or ATC 2) "Hot Lava" is nothing, if not eye-catching. In fact, when he debuted them at Roland Garros in 1990, the "Hot Lava" was the talk of the tourney…even the broadcasters were talking about them! One of the ATC II's other claims to fame, is that it was the primary inspiration for the infamous Nike Air Yeezy II, which to this day, are one of the most sought after kicks in the game. Trust me…you want these "Hot Lava's" in your rotation…if you can find them.
6. Adidas KB8 (1997)
Before Lebron entered the picture, the most notable and anticipated high-school-to-the-NBA story was that of the "Black Mamba" himself, Kobe Bryant. In fact, once he won the Slam Dunk Contest at the McDonald's All-American game (sponsored by Adidas), it seemed inevitable that Adidas would sign him. Of course, they needed to come correct with a banger of a signature shoe, and that they did with the Adidas KB8, which featured Torsion, some patent leather accents, and the new "feet you wear" technology. Retro'd several times, this is a shoe that has certainly stood the test of time and likely will for years to come.
7. Reebok Pump Omni Lite "Dee Brown's" (1990)
The story of the Reebok Pump Omni Lite is one of serendipity. Yes, Dee Brown had been signed by Reebok, in his rookie season, prior to the 1990 Slam Dunk Contest, but it was nothing special, he was essentially unknown (even by Celtic's fans) and Reebok gave him no instructions on how to "market" them when the lights were on. It was Dee's idea to "pump them up" prior to each of his signature dunks (he says he was just doing it to improve the fit), not some Reebok marketing ploy. Dee Brown and the black/white Omni Lite's will forever be cemented in the minds of sneakerheads.
8. Nike Air Command Force "Billy Hoyle's" (1991):
The Nike Air Command Force is iconic for a multitude of reasons. First, it was worn by one of the greatest big men of all time, David Robinson, who was jacked and probably the only player strong enough to actually where these giant "bricks' in games….except, well, Billy Hoyle, the fictional character played by Woody Harrelson, in the cult classic film "White Men Can't Jump". Lastly, what some don't know is that these were Nike's second (and I believe last) attempt at integrating a pump into one of their shoes (the first being the charmingly hideous Nike Air Pressure, which were actually worn in NBA games by NY legend, Mark Jackson, despite weighing almost 2lbs each).
9. New Balance 997M (1991)
Created by Steve Smith in 1990, the New Balance 997 was revolutionary, for a multitude of reasons. First off the look:  the raised heel and sleek downslope from top to toe was new to the market and frankly, way ahead of its time. Moreover, Smith combined smooth suede with pebbled leather (typically only used for basketball sneakers) and an XAR-1000 carbon rubber heel pad. The 99x family of NB shoes had previously rocked exposed die-cut EVA midsoles, but the 997 ditched the traditional foam cushioning in favor of a Polyurethane shell that housed dual-density ENCAP inserts. A chunk of pliable C-CAP ran from the toe through to the medial midfoot, with removable arch supports completing the cushioning quartet.
10. Nike Air Mowabb (1991)
For all intents and purposes, the Nike Air Mowabb (named after a trip Tinker Hatfield and some other Nike dudes took to Mowab, UT, for hiking and mountain biking) is the flagship of the Nike ACG (All Conditions Gear) sub-brand within Nike. A cross between a boot and the recently released Nike Air Huaraches (the first "sneakerboot" ever?), this adventure-seeker sported a speckled midsole that was intended to mimic the look of a trout fish. I'm not sure about the fish-reference, but the overall result is a 90's classic that will be retro for decades to come.
11. Vans Half Cab (1991)
Prior to the Half Cab's official release in 1992, skateboarders would take the (Steve) Caballero pro shoe (later nicknamed the "Full Cab"), cut away its high-top ankle paneling, and duct tape the exposed seam to achieve the fit they wanted (the pair above are from the 2022 "30 Year Anniversary" launch). So, in short, the "Half-Cab" was an example of DIY kicks, before customization was even a thing…an icon for sure.
12. Air Jordan V (1990)
At $125 Tinker Hatfield's 3rd Air Jordan masterpiece was a "luxury" sneaker, before the term even existed. The Air Jordan V's main design inspiration was the aggressive look of the iconic World War II era fighter planes painted to look like a shark—hence the zig-zagging tooth-like midsole detail. It was also the first pair of J's to have the "icey" soles, a feature that kicks aficionados have had a love-hate relationship, ever since.
13. Converse Aero Jam "Grand MaMa's"
Fresh off a stellar 2 year run with the UNLV Runnin Rebels', power forward Larry Johnson, was drafted by the Charlotte Hornets and not long after, he inked a deal with Converse, which culminated in his own signature shoe, the Converse Aero Jam. The Converse Aero Jam featured REACT Juice (I still have no idea what that even did…if anything) in the heel and rear ankle for maximum support so "GrandMaMa" (yeah, you remember those odd, yet endearing commercials, right?) could get it in on the court, down in the paint. The design was true to the times — velcro strap and the airbrush fade on the midsole was pure 90s.
14. Nike Air Flight Huarache (1992)
In the early 90's Tinker (yet, again), came up with a brilliant idea…after a water-skiing trip, no less. Combine the neoprene from a water-ski boot (that stretches to conform to one's foot), with an exoskeleton of leather and plastic to create a sneaker. The result was the OG Nike Huarache running shoe, which is still one of the most popular shoes, even now, 30 years later.
Soon after that vaunted release, Tinker teamed up with young designer, Eric Avar and soon after, the Nike Air Flight Huarache was born…and soon on the coolest basketball players in the country; the Michigan "Fab Five".
"What was cool about the basketball shoe was that the Fab 5 at the University of Michigan were given these shoes, and they all wore them. They thought they were great, Hatfield recalls. "This shoe developed a life of its own partly because there was no basketball shoe that ever looked like that before it, and these guys all at the University of Michigan were all wearing them — it was an explosion after that".
15. Reebok DMX Run (1998)
I've always had a love-hate relationship with these. I mean, the colorway above was their original release and…ummm, it's not my favorite. That said, the tech was very cool and they were very comfy to wear, as it did feel like you were walking on little mini pillows. Not surprisingly, these were Reebok's hottest release since The Question, so naturally they found their way into Iverson's 2nd signature shoe, the Reebok Answer.
16. Air Jordan XI (1995)
Last, but certainly not least…yet another Tinker Hatfield creation, the Jordan XI was actually designed and created after Jordan initially retired, and as such, Tinker asked Nike to delay its release until after Jordan (hopefully) came back to playing in the NBA. In fact, the first time Jordan ever wore the Jordan XI was when he rocked the all-black version of this classic, while filming Space Jam (hence these all-black iterations are affectionately called the "Space Jam"). Of course, Jordan did return (after a less than stellar baseball career) and did end up wearing these timeless classics in the NBA. To this day, Tinker (and Jordan…and millions of us fans) considers these amongst his favorite Air Jordans, and arguably the 1 Air Jordan (perhaps, sneaker) of all time.